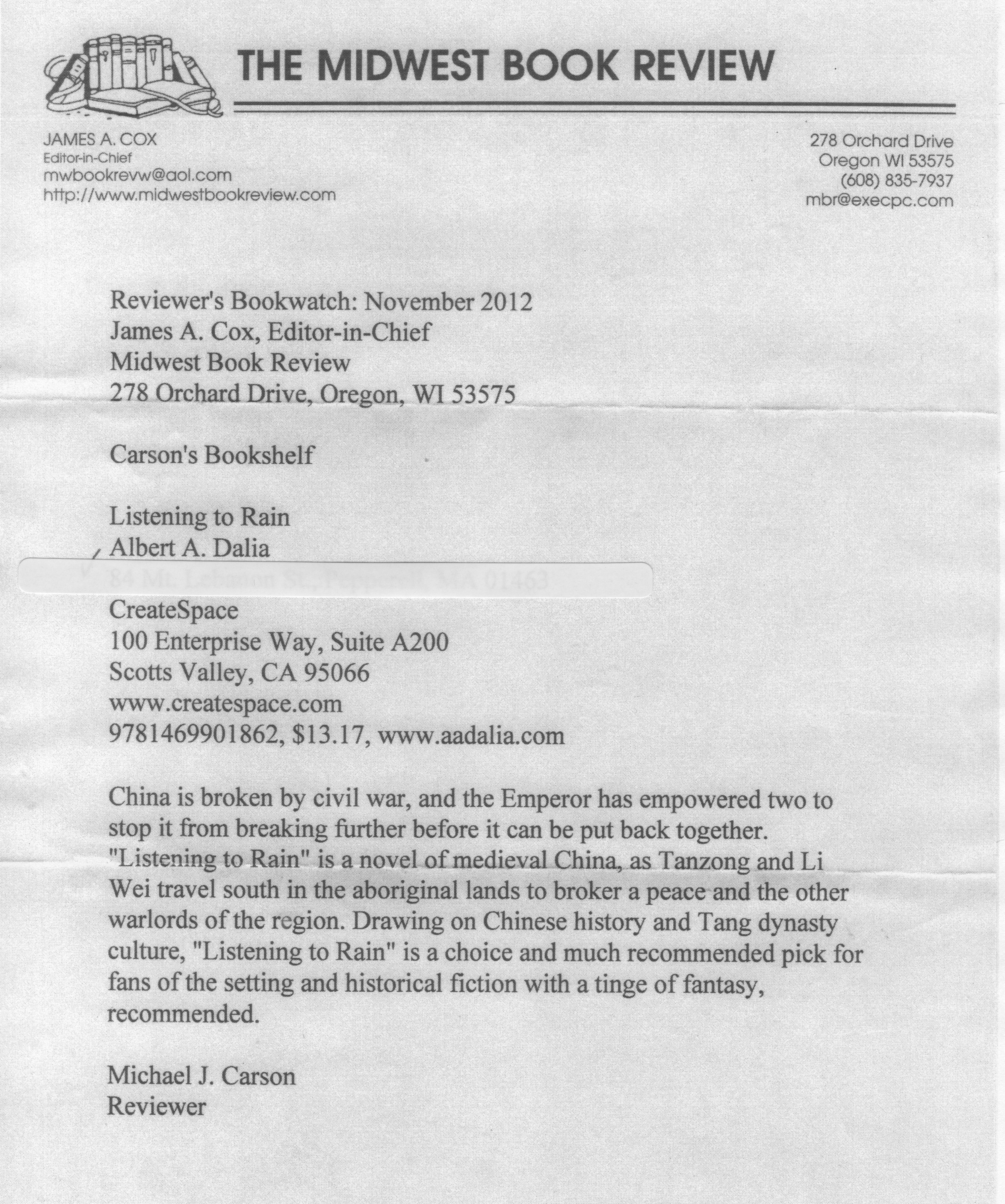 Saturday, February 9, 2013
Fantasy Book Critic
OVERVIEW/ANALYSIS: Listening To Rain is the debut book by Albert A. Dalia and its blurb and excerpt chapters intrigued me enough to ask the author for a review copy.
The book begins in the past 607 AD wherein a young boy is taken from his ancestral home after it has been attacked. Twenty years later we are reintroduced to the child who is now grown up and is called Tanzong the Shaolin Blade. His legendary exploits helped the young emperor of the Tang dynasty previously in a time of need. The emperor then assigns his imperial commissioner Li Wei to accompany Tanzong and find out more about disturbances in the southern part of his empire. Such begins the journey that will see both of them travel far and wide in a mystical China and face many great adventures that will be captured by Li Wei in three great scrolls, the first of which is called "Listening To Rain".
This new series book by Albert A. Dalia hearkens back to the classical mytho-fantasy tales by Barry Hughart. The story settings are similar and while Barry's stories featured humor, Albert Dalia eschews the humor but does not skip the inventiveness showcased by Barry Hughart. The story begins in a typical fantasy style with a young child who will grow up to be the epic hero and he does however his journey is only just beginning. As the story progresses we find out that there are many more mysteries to be found in this China as imagined by the author. That's what I liked about the story that it went all out on the magic and fantasy front without being apologetic about it. The characterization isn't all that great but since this is the first volume, I'm always ready to give the benefit of doubt to the author.
The main character cast introduced isn't a large one however they are quite easily placed in the good or bad category and that perhaps might be a drawback for several readers. The story has a good pace to it and follows a traditional fantasy route and in that regards it is predictable however the author does his best with some latter part twists to the story that liven up the tale and make the reader intrigued for the second tale. The fantasy settings of this story explore a bit of China's history and mythology however I'm not an expert in either subjects and so I can't vouch for the their accuracy. I did enjoy the author's slant on these subjects as he seems to be genuinely interested in them and so it will be up to readers to decide how they find his efforts.
Listening To Rain is a story that showcases its flair by indulging the author's interests and studies. It is a book that has flaws as well as fascinating facets to it. I think this was quite a different debut than I have usually read about. Give it a shot of you are interested in reading mytho-historical fantasy with a different slant than those found currently. I think Listening To Rain will find its fans should readers be willing to give it a shot.